What a joy to attend The New Covenant Church (tNCC) for the second time!  Located at Wisma TA (Damansara Utama), TNCC had been shifting to a few locations since it was founded in 2009. The 800-seater Wisma TA at Damansara Utama was quickly filled — a noticeable increase since I last visited a few months ago.
Like many churches, Christmas décor was up! Happy faces awaited the service to begin. As the lights dimmed and the spotlights lit up, praise and worship began with a few Christmas songs. Like every Sunday service, a brother or sister-in-Christ would come on-stage to share a brief testimony of how God has blessed them recently.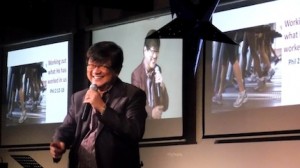 Today, Pastor Peter Sze, Senior Pastor of tNCC, continued with the series of Philippians. Looking back at the previous verses of this book, one of the main hallmarks of this book is joy, rejoicing or how God wants us to enjoy our lives. If there's one thing that characterizes us as a community of grace, it is our joy in the way we do things and carry ourselves.Philippians 2:12-13 12 Therefore, my dear friends, as you have always obeyed—not only in my presence, but now much more in my absence—continue to work out your salvation with fear and trembling,13 for it is God who works in you to will and to act in order to fulfill his good purpose.
"One thing that reoccurs in this book is that He who begins a good work in us will bring that into completion. Jesus doesn't do 50 percent, but he does 100 percent and more! (Philippians 2:13)," said Peter. "God is working in us and we can be confident that anything we do can stand the test of fire."
And when fiery troubles happen, we are prone to grumbling or arguing. Hence, when we cease to grumble and instead turn to worship, we become stars in the sky, shining for Him!
Philippians 2:14-18 14 Do everything without grumbling or arguing, 15 so that you may become blameless and pure, "children of God without fault in a warped and crooked generation." Then you will shine among them like stars in the sky 16 as you hold firmly to the word of life. And then I will be able to boast on the day of Christ that I did not run or labor in vain. 
In our spirit, we become exactly like Jesus, because Christ's spirit is in us. Thus, we lack absolutely nothing in our spirit. "Your body responds to what your mind is processing and that is why we need to be transformed by the renewal of our minds. It starts with our mind wanting to be whole", says Peter.
Romans 12:2 "Do not conform any longer to the pattern of this world, but be transformed by the renewing of your mind. Then you will be able to test and approve what God's will is–his good, pleasing and perfect will."
Indeed, not complaining can be good for our health. Let's try to not complain for one day and see the difference it makes in our lives. We need to line up our soul and our body to what we have already received in spirit.
"The key to good health is your emotional and mental state. Your body responds to what your mind is processing and that is why we need to be transformed by our renewal of our minds and our body. It starts with our mind wanting to be whole", says Pastor.
Philippians 2:17 But even if I am being poured out like a drink offering on the sacrifice and service coming from your faith, I am glad and rejoice with all of you. 18 So you too should be glad and rejoice with me.
If we were to respond to our trouble through rejoicing in God and believing that He would give us sufficient grace to endure; this joy would set us apart!
To find out more about TNCC or listen to the full sermon, please visit www.tncchurch.org