1. ICEBREAKER
Play any simple game between 2 teams. Tell them that the winning team will decide the forfeit for the losing team.
After the game, get the winning team to show kindness to the losing team by giving them a prize, even though they do not deserve it.
2. LESSON: David & Jonathan's Covenant
A. David & Jonathan (1 Sam 18:3-4)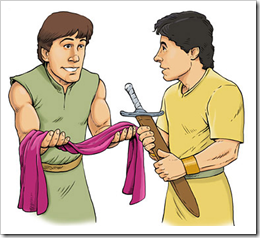 Covenant between friends: What's yours is mine; what's mine is yours
The Exchange of robes: Putting on each other's identity
Jesus took the form of man so He could die for us. When we receive Jesus, we put on His identity (Gal 3:26-27) so we can be children of God.
B. Mephibhosheth (2 Sam 4:4; 2 Sam 9:1,3, 5-7, 9-13)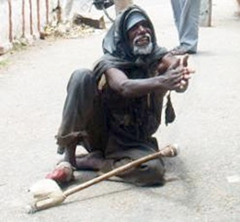 Son of Jonathan
Name means "a thing of shame"
Crippled in both feet; orphaned; scorned and living in fear; a "dead dog"
David remembered his covenant with Jonathan: "Is there still anyone who is left of the house of Saul, that I may show him

kindness for Jonathan's sake

?" (2 Sam 9:1)
Mephibosheth: How do you think he felt? Fell on his face. "Here is your

servant

."
David said to him, "

Do not fear

, for I will surely show you

kindness for Jonathan your father's sake

, and will

restore

to you all the land of Saul your grandfather; and you shall

eat

bread at my table

continually

." (2 Sam 9:7)
"He shall eat at my table

like one of the king's sons

." (2 Sam 9:11)
C.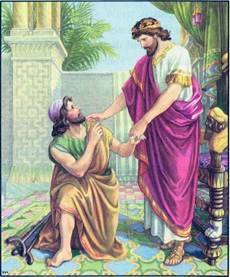 God's Covenant of Kindness
Because of his covenant with Jonathan, David showed Mephibhosheth kindness and gave him:
Assurance: Do not fear
New Life
Restoration
Provision
A Place at the King's table
Sonship
Because of the New Covenant, we receive the

kindness of God

!
Ephesians 2:4-9 4 But God, who is

rich in mercy

, because of His great love with which He loved us, 5 even when we were

dead in trespasses

, made us

alive together with Christ

(by grace you have been saved), 6 and raised us up together, and made us sit together in the heavenly places

in Christ Jesus

, in order that in the coming ages, He might show the

exceeding riches of His grace in His kindness

toward us in Christ Jesus.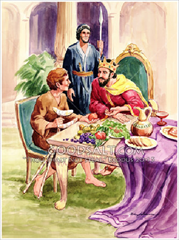 Jesus gives us:
Assurance: No fear
New Life (Eph 2:4-5)
Restoration —Jesus came to restore us to the Father and all the Adam lost in the garden of Eden (Joel 2:25)
Provision (Phil 4:19)
A Place at the King's table (John 6:53)
Sonship (Galatians 3:26 For you are all

sons of God

through faith in Christ Jesus.)
D. Conclusion
WHO ARE WE? We are the Sons of the King
WHERE DO WE DWELL? In the Land of the King
WHAT DO WE CONSUME? The bread of the King
In Christ, with Christ, through Christ, the Covenant of God's Kindness is shown!
3. ACTIVITY SUGGESTIONS
Memory Verse Activity: Galatians 3:26  For you are all

sons of God

through faith in Christ Jesus.
Worksheet (click for PDF)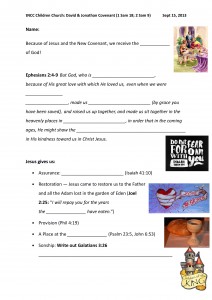 Close in prayer