1. LESSON:
HOOK: God keeps His promises

 

Write out some Scriptures of God's promises (see appendix) and hide them around the room. (Can fold them into origami or in envelopes or behind cards, e.g. flower shapes etc. Or can be played as "pass the parcel" with a promise and a gift at each layer.)

Kids have to go hunt for the "treasure". Then get them to come together and read out each of the promises one by one.

Conclusion:

God has given us many promises, and He keeps all of them. Today we're going to learn about a BIG promise God made to King David. It's a promise that you and I can enjoy too!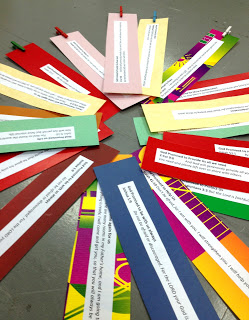 STORY:

(

2 Samuel 7:1-15)

God gave David rest from his enemies. One day when he was sitting in his grand palace, he said to Nathan, the prophet: "I live in a grand house of cedar. But the Ark of God remains in a tent. Perhaps God would have me build Him a house."

Although David wanted to build a temple for God, God said to Nathan, "I will make David a house; and his house, his kingdom, and his throne shall be established forever. I took David from tending the sheep to be the ruler over my people, over Israel; and was with him wherever he went, cut off his enemies, and made his name great."

God also said, "When David's days are over, I will set up his seed, or children, after him and I will establish his son's kingdom and throne, and David's son shall build a house for my name.

 

What did God mean when He said to David, "I will set up your throne and your kingdom forever"? How long is forever?

 

Now here is something very interesting so listen carefully and you will understand.

God said if David's family would obey Him, their kingdom would continue.

He also said if they disobeyed, He would punish them.

Before David died, he told his son, Solomon, about the promise God gave him: "If you and your descendants watch how they live and walk faithfully before me with all their heart soul, you will never fail to have a successor on the throne of Israel."(1 Kings 2:4)

 

Some kings were good kings. But many were not. One by one would keep disobeying God by worshipping idols. Over and over again.

And each time God would punish them for their sin.

Eventually, the nation of Israel was divided into two — the northern and the southern kingdom. Enemy nations marched in and conquered them. The Assyrians drove out the northern kingdom and scattered the people all over. The Babylonians invaded the southern kingdom, and all of the people were captured and taken away out of the land, including their king.

 

The amazing thing is how God protected David's line through it all. For example, there was one time when the entire family was almost wiped out, but Joash was hidden by his aunt (2 Kings 11).

However, when the Israelites returned from Babylon, they no longer had a king on the throne.

 
So what about God's forever promise? Did God fail to keep his word?

Well, here is something wonderfully exciting!

About 400 years later, God sent an angel to bring a message to a young woman named Mary: "You shall give birth to a son. You shall call his name Jesus. He shall be great and shall be called "the Son of the Highest." Now listen to these words! "And the Lord God shall give Jesus the throne of his father David. … He shall be king over the house of Israel forever." (Luke 1:26-33)

 

You see, Mary, the mother of the Lord Jesus, was from the family of David. David was one of her great, great, great, great, great, great, great, great … grandfather. So that made Jesus the great, great, great, great, great, great, great, great, great … grandson of King David.

Think for a moment, was the Lord Jesus ever crowned king by Pilate in Jerusalem? No. The only crown he wore was a crown of thorns. The Lord Jesus Christ, God's only Son was nailed to a cross where He died. His body was placed in a garden tomb. So what about God's "forever promise"?

Did the Lord Jesus remain in the grave? No! Up from the grave He arose, and He is living today in Heaven as the King of kings. By His death on the cross, He has conquered death and sin. And His rule will never end. (Luke 1:33, Phil. 2:11)

This is God's forever promise to David come true. Truly He who promised is faithful. God keeps His promises always!
2. ACTIVITY SUGGESTIONS:
Memory Verse: 2 Sam 7:15-16

,

"But my love will never be taken away from him. Your house and your kingdom will endure forever before me; your throne will be established forever.'"

 

for younger classes:

"

 

Your house and your kingdom will continue before me for all time, and your throne will be secure forever." (NLT)

Close in prayer
APPENDIX: Examples of God's Promises
God Promised to be with us always




Joshua 1:9 

Do not be afraid or discouraged. For the LORD your God is with you wherever you go.

God Promised to Protect Us




2 Thessalonians 3:3

 

But the Lord is faithful, who shall establish you and keep you from evil.

Jesus Promised Us Rest


Matthew 11:29

 

Take my yoke upon you. Let me teach you, because I am humble and gentle, and you will find rest for your souls.

Jesus Promised He will come again for us


John 14:2-3

 

There are many rooms in my Father's home, and I am going to prepare a place for you. When everything is ready, I will come and get you, so that you will always be with me where I am.

God Promised No More Condemnation
Rom 8:1

 

So now there is no condemnation for those who belong to Christ Jesus.

God Promised to Help Us


Isaiah 41:10  Don't be afraid, for I am with you. I will strengthen you. I will help you.

Jesus Promised Us Peace


John 14:27 

I am leaving you with a gift — peace of mind and heart. And the peace I give isn't like the peace the world gives. So don't be troubled or afraid.

God Promised Us Healing


Isaiah 53:5  

By His stripes we are healed.

God Promised to Provide Us all we need
2 Cor 9:8

 

And God will generously provide all you need. Then you will always have everything you need and plenty left over to share with others.

God Promised us Life


John 3:16

 

For God so loved the world that he gave his only Son, so that everyone who believes in him will not perish but have eternal life.