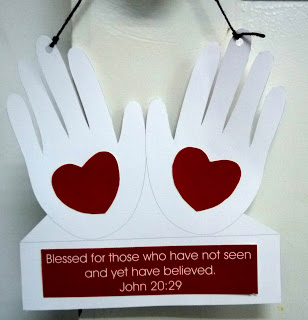 1. Story (based on Luke 24:36-53; John 20:24-29)
Last week we learnt about how Jesus appeared to some of His disciples. How many?

(2)

What was the name of one of them?

(Cleopas)

. Where were they walking to?

(Emmaus)

After the two disciples recognized Jesus, they quickly ran all the way back to Jerusalem to tell the others that they had seen Jesus.

The other disciples were also excited … Jesus had appeared to Simon Peter. As they were talking, suddenly, guess who appeared before them? Jesus!
Jesus proves He is not a ghost

Jesus immediately proclaimed, "Peace be with you. Why are you troubled, and why do you doubt?"

To prove to the disciples that he was not a ghost, or their imagination or a projected image, Jesus asked them to touch Him. "

Look at my hands and my feet. It is I myself! Touch me and see; a ghost does not have flesh and bones, as you see I have."

The disciples saw Jesus' hands and feet. They saw the place where the nails were pierced. They were amazed. But still they didn't believe completely it was really Jesus!

So Jesus asked for something to eat. They gave him a piece of broiled fish, and Jesus took it and ate it in front of it. After all, ghosts don't eat!

 
Jesus proves Himself to Thomas

There was one disciple who wasn't in there when Jesus appeared. His name was Thomas.

When his friends told him they had seen Jesus, He still did not believe.

 "Unless I see the nail marks in his hands and put my finger where the nails were, and put my hand into his side, I will not believe."

A week later his disciples were in the house again, and Thomas was with them.

Though the doors were locked, Jesus came and stood among them and said,

 

"Peace be with you!"

  

Then he said to Thomas,

 

"Put your finger here; see my hands. Reach out your hand and put it into my side. Stop doubting and believe."

Thomas said to him, "My Lord and my God!"

Then Jesus told him,

 

"Because you have seen me, you have believed; blessed are those who have not seen and yet have believed."
Jesus proves Himself to us

We may not have seen Jesus appear in physical form.

We may not have touched his sides and his hands.

We may not have seen him eat a piece of fish in front of us.

But we can still know that He lives in us and through us.

Even though we do not see His body, we have His spirit.

Jesus is alive. And He is with us every day!

Jesus calls us "blessed" because of our faith in Him.

Do you want to believe in Jesus? If yes, please pray with me.

Lord Jesus, even though I don't see you, I can believe in you and receive you into my life. Thank you for loving me, for dying on the cross for me, and for raising from the dead. Thank you for your Spirit living in me always. In your name I pray, Amen!

 
2. Suggested Activities
Memory Verse activity: any game/activity that helps kids to memorise the Memory Verse.

John 20:29 Blessed are those who have not seen and yet have believed.