1. Story (based on Luke 22:31-34; 54-62)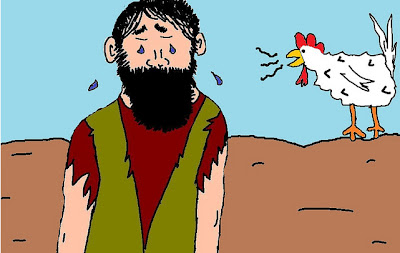 Last week we learned that Jesus was in the garden of Gethsemane. He obeyed the Father's will and He gave Himself willingly to those who came to arrest Him.

Simon Peter, his disciple, was with him.

Earlier at the Passover meal, Jesus had prophesied that His disciples would desert him.

But Peter boasted to Jesus,

"Lord, I am ready to go with you to prison and to death."

He thought he could do anything, and he was proud. He thought he was willing and able to go all the way for Jesus, even if it meant going to prison or to die for him … even if ALL the other disciples fell away, he would not.

Peter was boasting in himself!

Jesus told him, though, that

"Before the rooster crows today, you will deny 3 times that you know me."

In fact, when Jesus was arrested, Peter was the one who swung his sword to cut off the High Priest's servant's ear. He thought he was being brave and strong.

Peter was acting in his flesh.

But when Jesus was led away to the house of the High Priest, Peter followed … at a distance. There was a fire in the middle of the courtyard, and people were sitting around it. Peter went close to the fire and sat down.

A servant girl saw him there. She looked closely at him and said, "This man was with Jesus." But Peter denied it. "Woman, I don't know him."
Later on, someone else saw him and said, "You also are one of them."

Peter replied.

 "Man, I am not!"

About an hour later another person said,

"Certainly this fellow was with him, for he is a Galilean."

 Peter replied,

"Man, I don't know what you're talking about!"

Just as he was speaking, the rooster crowed. Jesus turned and looked straight at Peter. Then Peter remembered what Jesus had said to him: 

"Before the rooster crows today, you will disown me three times." 
2. Lesson:
When we boast in ourselves, we think we are better than everyone else, even God.

Peter wanted to die for Jesus — in His place. He thought that was the right thing to do. But his death would not have accomplished anything. Only Jesus' death would have any effect.

Earlier in the dinner, Peter wanted to wash Jesus' feet too. He thought it was the humble and right thing for a disciple to wash His master's feet. But he didn't realize that only Jesus could wash us clean. We cannot wash ourselves or Him clean on our own.

We should realize that it's not what we can do, but what Jesus has done for us. If we boast, let us boast in the Lord! (2 Cor 10:17)
When we act in the flesh, we don't flow with the Spirit.

Peter was all full of bravado and gungho-ness. He thought he could help Jesus by cutting off the servant's ear. He thought he could help Jesus escape from his captors.

But Jesus touched the servant's ear and healed it. Jesus was following the Spirit's leading. He told God that He was obeying God's will, not His own.

Because Jesus died, rose again and went to heaven, He gave us His Holy Spirit to live with us forever. Before we act or react, let us listen to the Spirit. Ask God, "Please teach me what to do. Help me to act according to Your will, not mine."

When we fail, Jesus helps us up in love.

Jesus told Peter that He was praying for him.

Jesus knew Peter would be tested and Satan will try to shake him. Jesus knew that despite Peter's brave words, he will deny him 3 times.

But Jesus was ready to restore Peter back in love. He was ready to catch Peter and help him turn back and strengthen his brothers. He forgave him.

When we fail, Jesus is there to catch us and to help us back. He will never let us go!

Three times Peter said, "I am not." Three times Jesus said, "I am He." (John 18)

What we cannot do, He can.
We cannot fulfill God's standards. We cannot pay for our own sins. We fail and fall.
And in all these weaknesses, Jesus is strong. What we cannot, He can. Who we are not, He is.
So don't look to ourselves. Fix our eyes on Jesus — the Lamb of God who came to take away the sins of the world!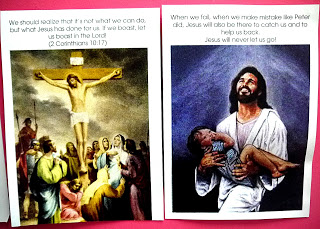 2. Activity Suggestions