1. Lesson (based on Psalm 23:5b-6) 
Materials: An empty jar, a (larger) pouring jar with water, a cloth or napkin, a straw

Put the empty jar on top of the cloth/napkin

Tell the kids that the aim of the game is to pour as much water into the empty jar without it spilling over.

For older kids, can get them to take turns pouring in water. For younger kids, the teacher can do it for them.

The tricky part is when the water reaches almost to the brim of the jar. By then, can use the straw to drop water into the jar bit by bit.

Game/illustration ends when the jar overflows.

Conclusion:

In this illustration, we see how much is really needed to make a cup overflow.

 

 

Do you know our lives are a cup too? A cup full of God's life, goodness and blessings.

And do you know, our cups are not just half full or half empty. It's not even full to the brim. It's overflowing. Not by a trickle or a drop, but in abundance.
Imagine holding your cup under a waterfall. What happens? The water is just gushing in and gushing out. It's never ending. And never run out.
That's what life is when you have Jesus in you.
SONG: Running Over
Running over, running over,
My cup's full and running over.
Since the Lord saves me
I can be happy as can be,
My cup's full and running over.

 

What does this mean to a sheep?
Sheep need fresh water. Sheep drink water from streams or lakes. However, the water may be polluted/not clean.

Besides streams of quiet water, the shepherd would also bring fresh water to troughs or buckets for sheep to drink, as it is being practised/ done by shepherds today.

David's sheep water troughs were never empty. They were always full and overflowed. David was a good shepherd over his sheep.

The shepherd always cares of his sheep. All the sheep has to do is to follow the shepherd and all its needs are taken care of.
 

What does this mean to me?

 

My Good Shepherd's supply always overflows

 

E.g. Jesus feeding the 5000 and more with a boy's lunch of 5 loaves & 2 fish. They ended up with 12 baskets of loaves leftover. (John 6:13)

Simon Peter and some other disciples went fishing all night but caught nothing. Jesus came to them and they caught so many large fish that they could not to draw the net up (John 21:3-6)

Our Lord gives us exceedingly abundantly above all that we asked for or imagined (Ephesians 3:20).

<Share a personal testimony.>
My Good Shepherd, Jesus, is the fresh and living water

 

John 4:13-14 

Jesus answered, "Everyone who drinks this water will be thirsty again, but whoever drinks the water I give them will never thirst. Indeed, the water I give them will become in them a spring of water welling up to eternal life."

Jesus gives us everlasting life and meets all our needs.

 

(I lack nothing)

I do not need to look elsewhere because I am satisfied in Christ Jesus. (I thirst no more)

Jesus, living in us, makes us become a fountain of water that overflows, a fountain of abundant life.

He blesses us so much that we become a blessing to others around us. 
As I follow my Good Shepherd, His goodness and mercy follows me all the days of my life.

 

Just as if we keep under the waterfall, our cup will keep being filled and overflowing.

So as we walk with the Good Shepherd, we don't have to chase after God's blessings. Instead, His blessings, His goodness, His mercy and His favour chases after us all the days of our lives and overflows to all around us.

All

the days of my life: not just some days, not just "good" days but every day!

God is good to me … ALL the time!
2. Suggested Activities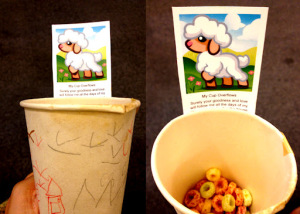 Memory Verse with actions:

 

Psalm 23:1-6 
The LORD is my shepherd, I lack nothing.
He makes me lie down in green pastures, he leads me beside quiet waters,
He refreshes my soul. He guides me along the right paths for his name's sake.
Even though I walk through the darkest valley, I will fear no evil, for you are with me;
your rod and your staff, they comfort me.
You prepare a table before me in the presence of my enemies,
You anoint my head with oil
my cup overflows.
6 Surely your goodness and love will follow me
all the days of my life,
and I will dwell in the house of the

Lord

forever.